A platform of highly efficient components that accelerate
Deliver software
faster with
Deliver software
faster with

Process Design
Documented business processes is a right way for digital transformation. In order to optimize things, you must first describe them and if you know your workflow, you know your app – as simple as that.
Reusable components
Map your project with our stack of components. Using our already developed and tested apps, you reduce software development time and increase it's quality.

Low Code Implementation
Software interfaces and workflows can be developed 10x faster than traditional coding using drag-and-drop tools. Draw your application and deploy it with full fexibility.

Custom Development
When something seems impossible, a developer can make it happen. Reaching the limit of low code at any time we can develop bespoke the logic that is unique.
Growing companies
Don't be stuck by IT solutions in business development. Pivot when you need to, add functionality on the go and expand your business scope beyond initial requirements.

Citizen Developers
Build productivity checklists for your team via drag-n-drop by transforming business flows into productivity apps. With EBS.io your workflow governs the software.
Professional Developers
Increase efficiency and write less code with higher level tools, discover world of BPM execution engine and low code. Focus more on implementing business logic, avoid technical problems and bugs.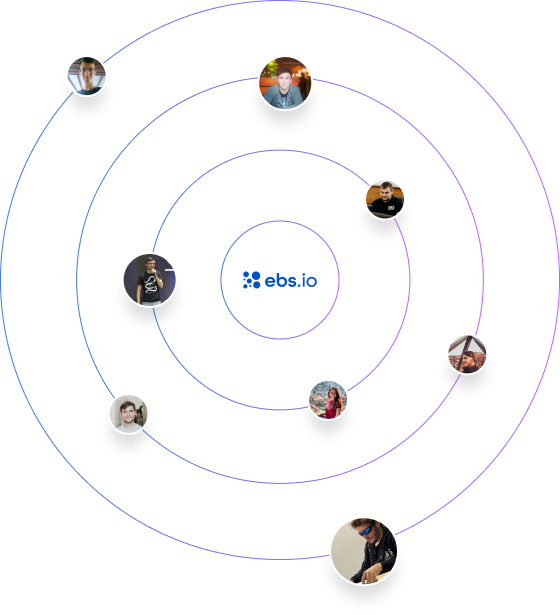 At ebs.io each of our community members take the time to listen and enjoy working and succeeding together. We're straightforward and avoid using complicated jargon.
EBS.io is open and happy to share. We won't hide anything. If there's a problem we'll own up and make sure it's fixed promptly, in the stakeholder's interest.
If value the same principles, join the community and let's bring software development to the next level.
Development-Driven
Components
Headless CMS
Headless CMS is a centralized content management tool for businesses that want to structure the way they place content on their sites.
Being oriented towards Low Code, this platform offers the possibility to develop CMS solutions in an accelerated way.
UI / UX Kit
A React-based UI toolkit for enterprise-grade applications.
Improve the experience of users using enhanced components. We are focused on creating rich components like forms, tables, modals, etc that add an exceptional experience in the most sophisticated apps.
Auth Service
Every user starts interacting with your application by using an authorization system.
Keep exceptional onboarding experience with a secure and tested authorization solution.
Low-Code Engine
Transform your business process into applications without writing a single line of code.
With no code, you have the flexibility to change your application when your company reaches changes.
Monitoring
Monitor your website's uptime and performance 24/7 with EBS Monitoring.
Blacklist, availability, certificate expiration checking provided by EBS Monitoring are the best approaches for keeping your website alive.
File Service
Upload, convert, optimize and store application files in a safe place.
This service solves all file management tasks for your app users.
Chat Service
A chat solution as a microservice for product owners that want to add more users interactions by messaging.
It's a ready-to-use service, with modern real-time communication technologies and fully customizable.
Notification Service
The notification service offers a high rate of message deliverability to the users of the application, be sure that your message constantly reaches the recipients.
Consistent Software Development
We found the formula to make it Good, reasonably priced and Fast. With EBS.io 12-month projects turn into 6-month efforts, focusing on key performance metrics rather than poking beehives.
Genuine Low-code Components
With Data centricity at its core, EBS.io is the right way to leap into digital transformation. With the help of our LagomSuite, everything fits together, converging operational data, into rich analytics, that enable our stakeholders to take informed risks based on data rather than assumptions.
Flexibile Software Development
Release Better, Stronger, Faster software, with EBS.io Every platform component is designed to deliver advanced software consistency and true transparency. EBS.io transforms your source into a language everybody understands while maintaining pivot-worthy flexibility.
Digital Transformation Done Right
We know – you're still cautious about any low-code 'bubble' – however, our components are designed with scalability in mind, keeping the flexibility of bespoke development. Our low-code approach focuses on reaching objectives, not specific templates.
Accelerated Bespoke Software Development
Even if you get 20 enginers in a team, your sources become more predictable, reusable and efficient. With EBS.io, your software development team can focus on true challenges, rather than re-inventing wheels such as SSOs, CMS-es, Galleries, or Chat modules.
Join the high productivity squad and discove the inner workings of ebs.io.